The Starlight Pass
About the Program
The Starlight Pass is a BLH program for our students who are interested in having roadmap for improvement at the Lindy 3 level and beyond. The required classes have been selected to help you acquire a new and broader skill set while continuing to refine your fundamental technique. The Starlight Pass is not the end of the road; rather, we hope that working through the pass will help you develop a better understanding of yourself as a dancer, and how you personally can continue to improve. And, finally, the Starlight Pass program gives us the chance to recognize and celebrate those students and instructors who complete the requirements for their hard work and commitment to the dance.
Details/How to Participate
Upon finishing your first Lindy 3 class, you can (if you are interested) receive a Starlight Pass notebook by asking your instructor. The notebook will contain a checklist of 10 classes, a space for instructors to sign or stamp after the completion of each class, and some space for any notes you might want to take. Taking all of the required classes is completing your Starlight Pass - and, hopefully, is a path towards continued improvement for you!
The required classes are:
Five (5) Lindy 3 series, one (1) each, on the following topics (each Lindy 3 description will contain information about which requirement the class can fulfill):

Competitions/Jams
Rhythm/Variations
Slow Lindy
Routine/Performance/Fast Lindy/Next Level Charleston
Moving Beyond Moves

Two (2) Fundamentals series on any topic. These classes must be distinct from the Fundamentals class you took to qualify for Lindy 3.
Retake one (1) Lindy 1 series (either in your primary role or the opposite role)
Retake any two (2) Level 2 curriculum classes. These include all Lindy 2 classes, Partnered Charleston, or Solo Jazz and the Shim Sham.
Classes only apply to your Starlight Pass if you take at least 5 out of 6 of them. Retakes of Lindy 1 and Lindy 2 only count towards the Starlight Pass if you retake them after you have taken your first Lindy 3 class, or concurrently with your first Lindy 3 class. The same rule applies to Fundamentals classes, which only count towards your Starlight Pass if you take them after or concurrently with your first Lindy 3 class. You must complete all the requirements to complete the Starlight Pass and there are no exceptions.
If you believe that you've taken all or some of these classes before the Starlight Pass program was in place, email us and we'll take a look back at our records and be in touch with you! 
Perks and Rewards
For starters, see the "About the Program" section above. But also, students who complete the Starlight Pass are eligible for some extra perks, including (but not limited to) super cool swag.
Halfway there! After completing 5 classes, students will receive:
A voucher for one free class for you
A voucher for one free Lindy 1 class to give to a friend
Starlight Pass complete! After completing all 10 classes, students receive:
An exclusive Starlight track jacket available only to students or instructors who fulfill all of the requirements
A free consultation-style private session with a BLH instructor of your choice (pending scheduling and instructor availability) to identify and discuss your personal next steps in continuing to improve your dancing
 
When you're gotten halfway there or you've completed your Starlight Pass, email us at info@bostonlindyhop.com to claim your rewards. Make sure to include "Starlight Pass" in the subject line so we can find your email!
More on the name...
The name is an homage to Kimball's Starlight Ballroom, an outdoor "dance palace" that stood in Lynnfield, MA from 1932-1963. During the heyday of the big bands, nearly all the greats played here – from Chick Webb with Ella Fitzgerald to Duke Ellington, Cab Calloway, and Artie Shaw.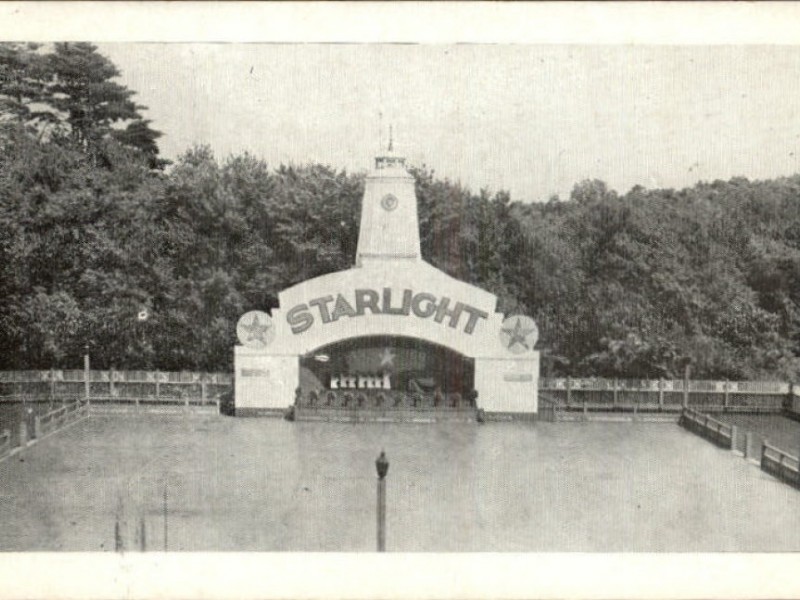 Lost Starlight Pass Booklets
Never fear! We track all of our registrations online. If you lose your Starlight Pass, stop on by during or around class time and ask for a replacement. Then ask an instructor what to do about re-filling out the classes you've already completed. They'll either be able to do it for you on the spot, or they'll direct you to someone who can help.
Questions
If you have questions about the Starlight Pass program, please reach out to us at info@bostonlindyhop.com. If you think you've already made progress on your Starlight Pass, and want to check how far along you are or want to keep working to complete your pass, please contact us directly at info@bostonlindyhop.com.
We also have policies in place regarding those of you who may not have taken classes with us recently, so please let us know if you want to know more! We also recognize that completing this list could be a financial burden; if financial concerns are preventing you from being able to work on your Starlight Pass, we want to help.